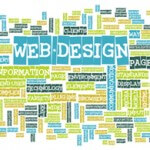 Whitehats, a leading IT software company in Dubai offers effective solutions for companies and individuals seeking the very best in professional web site design solutions . We provide services from the initial stage of designing up to the end of development of the website. We completed understand that a website represents the corporate identity of a business. Our expert designers offer their innovate and out of the box ideas to represent your thought and business in the form of a website. Our web redesigning services allow companies to redesign their website accordingly in order to embrace change effectively and update their clients with the latest trends, products and promotions.
Our corporate websites or corporate web designing are designed keeping in mind the brand identity and business goals of the clients. Our experts are completely updated about the latest trends in the IT industry and design websites that are user friendly. Keeping the pace with the rise in trend of smartphones, our web developers design websites that are mobile friendly. We also offer animation designing according to the requirements and needs of the business for their website, presentations, videos and product demos.
We offer comprehensive from basic domain registration and hosting to the design of logos, sourcing of photographic images, and programming of the website. Businesses have started using blogs and galleries to update their clients about the progress of a business. Whitehats offers a customized Content management system application that enables you update and edit your content on the website.
E-commerce enables different companies to sell products and services to other companies online. Whitehats Dubai provides the most efficient methods to globalize your business. Our ecommerce solutions are designed in specifically for the solution of complex business problems.
We aim to introduce and implement a concept of virtual communities where all users can share a common location or interest through our web portal solutions. We provide solutions to all types of portals such as corporate portals, enterprise information portals, vertical enterprise portals and consumer portals.
Whitehats Dubai offers mobile apps development for iOs devices, Android smartphones, Blackberry and windows mobile. We specialize in business apps, mobile client software, productivity applications and utilities, multimedia and games applications and internet applications.
Whitehats UAE offers cloud hosting services to enable their clients to work freely without any risk of data. We also offer dedicated servers on cloud with unlimited resources depending on clients' requirements.